January 11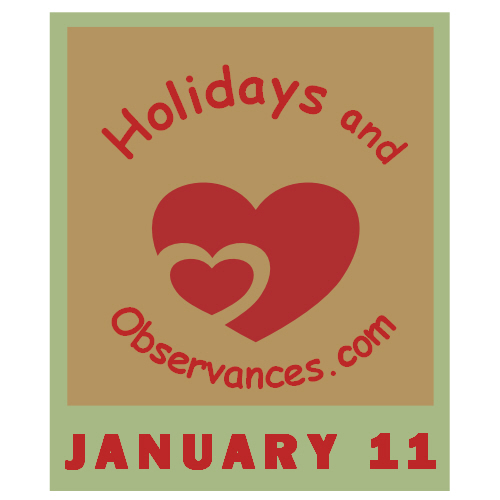 Holidays and Observances
(Alphabetical Order)
2023 Daily Holidays that fall on January 11, include:
Cigarettes are Hazardous to Your Health Day 
Girl Hug Boy Day 
Heritage Treasures Day (U.K.) 
Hot Toddy Day 

International Thank-You Day 
Learn Your Name in Morse Code Day 

Milk Day 
National Human Trafficking Awareness Day 
National Step in a Puddle and Splash Your Friend Day 
Secret Pal Day 

World Sketchnote Day 
2023 Weekly Holidays that include January 11, are:
Congenital Heart Defect Awareness Week - January 7-14
Cuckoo Dancing Week - January 11-17
Home Office Safety and Security Week - January 8-14, 2023 (Second Full Week in January)

National Mocktail Week - January 8-14, 2023 (Second Full Week in January)
National Pizza Week - January 8-14, 2023 (Second Full Week of January)
National Soccer Coaches of America Week - January 11-15, 2023 
Take a New Year's Resolution to Stop Smoking Month (TANYRSS) - December 17, 2022 - February 5, 2023; December 17, 2023 - February 5, 2024

Universal Letter Writing Week - January 8-14
2023 Monthly Holidays that include January 11, are:
There are too many monthly holidays to include here, so please check out my January Holidays page to see all of the holidays that are celebrated the entire month of January.
NOTE:
A page on each holiday will be coming soon and linked above.
If a date is a movable holiday, that is different every year, I'll include the year as well as the date rule above. Otherwise, the holiday falls on the same date each year.
World Festivals and Events
(Date Order)
Harbin Ice and Snow Sculpture Festival - Usually starts annually on January 5, and typically runs for a month or more, in Harbin, China and is the largest ice and snow festival in the world! 2023 dates are December 23, 2022 - February 28, 2023
Pennsylvania Farm Show - January 7-14, 2023 (Harrisburg, PA)

National Western Stock Show and Rodeo - (Denver, CO) - January 7 - 22, 2023
Astrological Sign

The Astrological Sign for January 11 is a Capricorn.
Birth Flower of the Month

The Birth Flower(s) for the Month for January are:
Carnation - The Carnation is the Birth Flower for January. The  symbolization of the Carnation means love, pride, beauty, purity, distinction, fascination, and loyal.
Snowdrop is a white flower with three small petals in the middle surrounded by three larger petals on the outside. The symbolization of the snowdrop means love, fascination, and purity.
See our GARDEN HOLIDAYS page for all the special days celebrating things of the garden!
Birthstone
The Birthstone for January is a Garnet.
Famous Birthdays

1755 - Alexander Hamilton, 1st United States Secretary of the Treasury
1946 – Naomi Judd, American singer (The Judds)
Famous Deaths

1843 - Francis Scott Key, composer of the Star Spangled Banner, dies at age 63
2008 - Sir Edmund Hillary, the New Zealand mountaineer, who was the first to climb Mt Everest in 1953, dies from a heart attack at age 88
Famous Weddings and Divorces

2003 - Actor Taye Diggs marries broadway actress Idina Menzel
Quote of the Day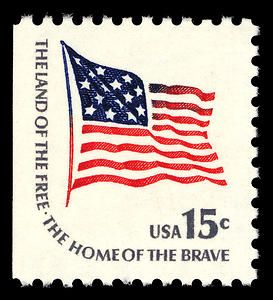 Featuring the flag that flew above Fort McHenry when Francis Scott Key penned the National Anthem, this 1978 stamp quotes his iconic lyrics. Part of his lyrics were use on the song:
The Land of the Free
The Home of the Brave


Recipe of the Day or a
Healthy Diet Habit Tip of the Day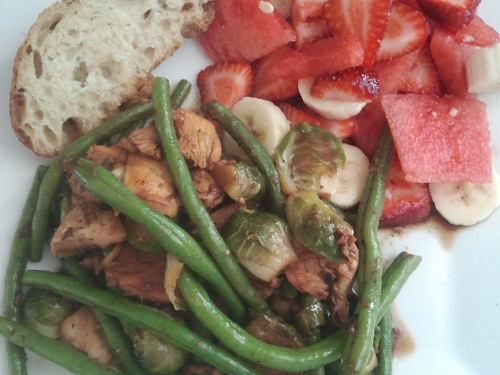 The recipe of the day is a Simple Stir Fry with Chicken, Brussels Sprouts, and Green Beans by Kerry of Healthy Diet Habits. A Simple Stir Fry is one that can be prepared in 15 to 20 minutes - faster than driving to fast food!
This Day in History

1569 - First recorded lottery in England
1805 - The Michigan Territory is created
1861 - Alabama secedes from the United States
1922 - The first use of insulin to treat diabetes in a human patient
1935 - Amelia Earhart flies from Honolulu to Oakland, California
1949 - First recorded snow in Los Angeles, California 
1964 - 1st government report warning smoking may be hazardous to one's health by Surgeon General of the United States Dr. Luther Terry, M.D.
1964 - Panama ends diplomatic relations with US
1973 - Trial of the Watergate burglars begins in Washington DC
1980 - 140 nations agree to ban chemical weapons (poison gas, etc)
1996 - Space Shuttle STS 72 (Endeavour 10), launches into space
This Day in Music

1963 - Beatles release "Please Please Me" & "Ask Me Why"
1966 - Certified Gold - The Herman's Hermits' album, The Best of Herman's Hermits

1972 - A notice in the

T

he London Gazette

, states that Reginald Dwight, is abandoning his name and taking the name Elton Hercules John.
The Beatles live singing Please, Please, Me 
This Day in Sports

1973 - Major League Baseball owners vote in approval of the  American League adopting designated hitter rule
1976 - Dorothy Hamill wins her 3rd consecutive national figure skating champions - she went on to win a Gold Medal in the Olympics in 1976.

1992 - US female Figure Skating championship won by Kristi Yamaguchi
1998 - US female Figure Skating championship won by Michelle Kwan and the US male Figure Skating championship won by Todd Eldredge
Word of the Day from Wiktionary

petiole (noun)

1. (botany) The stalk of a leaf, attaching the blade to the stem.
2. (entomology) A narrow or constricted segment of the body of an insect. Used especially to refer to the metasomal segment of Hymenoptera such as wasps.


Wishing You a Great Day Today!


Like this Page?
Like this Site?
---