January 12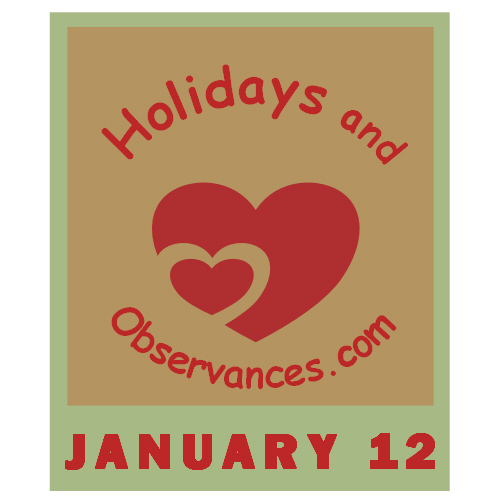 Holidays and Observances
(Alphabetical Order)
2023 Daily Holidays that fall on January 12, include:

Curried Chicken Day 
Feast of Fabulous Wild Men Day 
Healthy Weight, Healthy Look Day - January 12, 2023 (Second Thursday in January)
Kiss a Ginger Day 
National Hot Tea Day 
National Marzipan Day 
National Pharmacist Day 
Stick to Your New Year's Resolution Day 
Work Harder Day 
2023 Weekly Holidays that include January 12, are:
Congenital Heart Defect Awareness Week - January 7-14
Cuckoo Dancing Week - January 11-17
Home Office Safety and Security Week - January 8-14, 2023 (Second Full Week in January)

National Mocktail Week - January 8-14, 2023 (Second Full Week in January)
National Pizza Week - January 8-14, 2023 (Second Full Week of January)
National Soccer Coaches of America Week - January 11-15, 2023 
Take a New Year's Resolution to Stop Smoking Month (TANYRSS) - December 17, 2022 - February 5, 2023; December 17, 2023 - February 5, 2024

Universal Letter Writing Week - January 8-14
 2023 Monthly Holidays that include January 12, are:
There are too many monthly holidays to include here, so please check out my January Holidays page to see all of the holidays that are celebrated the entire month of January.
NOTE:
A page on each holiday will be coming soon and linked above.
If a date is a movable holiday, that is different every year, I'll include the year as well as the date rule above. Otherwise, the holiday falls on the same date each year.
World Festivals and Events
(Date Order)
Harbin Ice and Snow Sculpture Festival - Usually starts annually on January 5, and typically runs for a month or more, in Harbin, China and is the largest ice and snow festival in the world! 2023 dates are December 23, 2022 - February 28, 2023
Pennsylvania Farm Show - January 7-14, 2023 (Harrisburg, PA)

National Western Stock Show and Rodeo - (Denver, CO) - January 7 - 22, 2023
Astrological Sign

The Astrological Sign for January 12 is a Capricorn.
Birth Flower of the Month

The Birth Flower(s) for the Month for January are:
Carnation - The Carnation is the Birth Flower for January. The  symbolization of the Carnation means love, pride, beauty, purity, distinction, fascination, and loyal.
Snowdrop is a white flower with three small petals in the middle surrounded by three larger petals on the outside. The symbolization of the snowdrop means love, fascination, and purity.
See our GARDEN HOLIDAYS page for all the special days celebrating things of the garden!
Birthstone
The Birthstone for January is a Garnet.
Famous Birthdays

1628 - Charles Perrault, author famous for Mother Goose
1876 - Jack London, American author
1905 - Tex Ritter, American country singer and actor
1944 - Joe Frazier, American boxer 
1951 - Kirstie Alley, American actress
1951 - Rush Limbaugh, American radio personality and author
1974 - Melanie Chisholm, British singer - one of the Spice Girls
1978 - Jeremy Camp, American Christan singer
Famous Deaths

1976 - Agatha Christie, mystery writer, dies at 85 (I think I read most of her books!)

2003 - Maurice Gibb of the Bee Gee's
2022 - Ronnie Spector, American singer who co-founded The Ronettes (Be My Baby)  (b. 1943)
2023 - Lisa Marie Presley, American singer and songwriter, daughter of Elvis Presley and Priscilla Presley
Famous Weddings and Divorces

1963 - Willie Nelson, Country singer marries singer Shirley Collie
2002 - Conan O'Brien, late night TV host married Liza Powel
2006 - Tony Hawk, professional skateboarder marries Lhotse Merriam
Quote of the Day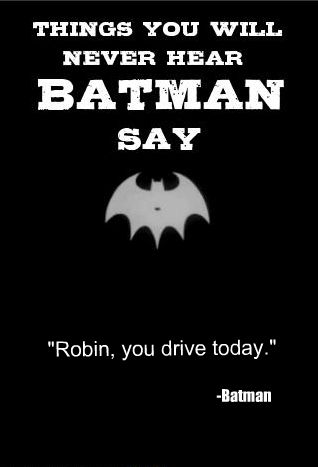 The original, Batman, with Adam West & Burt Ward premieres on ABC TV on this day, in 1966.  The clip below is of Adam West, who portrays Bruce Wayne having a phone conversation with Batman!
Recipe of the Day or a
Healthy Diet Habit Tip of the Day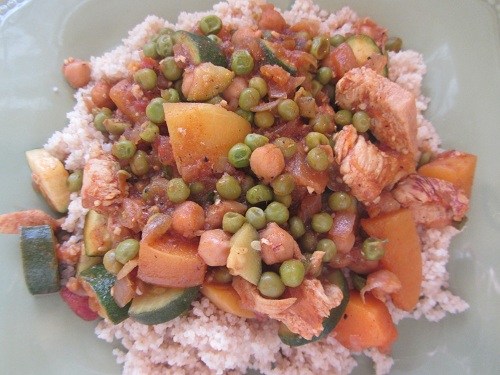 In honor of January 12 being Curried Chicken Day, the Recipe of the Day is Chicken Curry with Vegetables from Kerry, at Healthy Diet Habits. Link goes to her website for the Recipe.
This Day in History

1773 - 1st US public museum established in Charlestown, South Carolina
1863 - President Davis delivers his "State of Confederacy" address
1908 - A long-distance radio message is sent from the Eiffel Tower in Paris, France for the first time
1932 - Philip Barry's, "Animal Kingdom," premieres in NYC
1940 - During World War II, the Soviets bomb cities in Finland
1945 - German forces in Belgium retreat in Battle of Bulge
1961 - United Nations genocide pact goes into effect
1966 - "Batman" with Adam West & Burt Ward premieres on ABC TV
1968 - Nighttime version of "Hollywood Squares" premieres on NBC TV
1970 - Boeing 747 makes its maiden voyage
1981 - "Dynasty" with Joan Collins premieres on ABC-TV
1991 - US Congress gives George Bush authority to wage war against Iraq
1995 - Murder trial against OJ Simpson, begins in Los Angeles
2004 - The world's largest ocean liner, the RMS Queen Mary 2, makes its maiden voyage.
2010 - Earthquake occurs in Haiti killing 230,000, and destroying the majority of the capital Port-au-Prince
2020 - The Taael Volcano in the Philippines kills 39 people when it erupts
The 25th Anniversary recording, of We are the World, features over 80 artists and performers. The recording of We Are The World 25 For Haiti embodied the same enthusiasm, sense of purpose and generosity as the original recording 25 years ago. The original song was written by Michael Jackson, and Lionel Richie, and raised over $63 million for humanitarian aid in Africa and the US.
This Day in Music

1967 - The Beatles recorded Penny Lane

1968 - The Doors' album Strange Days is certified gold
1974 - Steve Miller's The Joker hits #1.
1974 - Jim Croce's album You Don't Mess Around with Jim hits #1.
1977 -  Stephen Stills and Neil Young's album Long May You Run is certified gold
1979 - 6th American Music Awards, Barry Manilow and Linda Ronstadt win
The video above is Neil Young singing, Long May You Run, UNPLUGGED! The song was about his 1948 Buick Roadmaster hearse, which he nicknamed "Mort."  This song was performed by Neil Young on the final broadcast of The Tonight Show with Conan O'Brien on January 22, 2010, and during the closing ceremonies for the Vancouver Olympics on February 28, 2010.
This Day in Sports

1969 - Superbowl III - New York Jets beat Baltimore Colts, 16-7 in Miami Superbowl.  MVP is Joe Namath, NY Jets, Quarter Back
1975 - Superbowl IX - Pittsburgh Steelers beat Minnesota Vikings, 16-6 in New Orleans Superbowl. MVP is Franco Harris, Pittsburgh, RB
1986 - Miami Dolphins win AFC football championship
1992 - US male Figure Skating championship won by Christopher Bowman
Word of the Day from Wiktionary

clangour (verb)

1. To make a clanging sound. Also spelled clangor.


Wishing You a Great Day Today!


Like this Page?
Like this Site?
---