January 21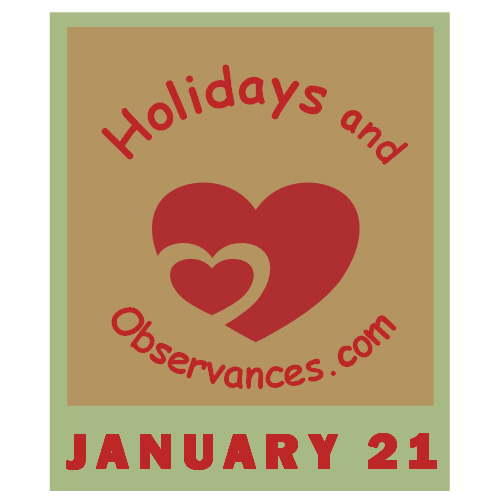 Holidays and Observances

2017 Daily Holidays that fall on January 21, include:
National Granola Bar Day 
National Hugging Day 
New England Clam Chowder Day 
Soup Swap Day - January 21, 2017
Squirrel Appreciation Day 
Thank Your Mentor Day 
2017 Weekly Holidays that include January 21, are:
Bald Eagle Appreciation Days - January 21-22, 2017
Hunt for Happiness Week - January 15-21, 2017 (Third Full Week)
International Snowmobile Safety and Awareness Week - January 21-29, 2017
International Week of Prayer for Christian Unity - January 18-25
National Activity Professionals Week - January 17-23, 2017
National Fresh Squeezed Juice Week - January 17-23
Week of Christian Unity - January 18-25
2017 Monthly Holidays that include January 21, are:
There are too many monthly holidays to include here, so please check out my January Holidays page to see all of the holidays that are celebrated the entire month of January.
NOTE:
A page on each holiday will be coming soon and linked above.
If a date is a movable holiday, that is different every year, I'll include the year as well as the date rule above. Otherwise, the holiday falls on the same date each year.
World Festivals and Events
Harbin Ice and Snow Sculpture Festival - Starts annually on January 5, and typically runs for a month or more, in Harbin, China and is the largest ice and snow festival in the world! 2017 Dates are January 5 - February 28, 2017
National Western Stock Show and Rodeo

 - January 7-22, 2017 (Denver, CO)

North American International Auto Show

 - January 8-22, 2017 (Detroit, MI)

Southwestern Exposition and Livestock Show - January 13 - February 4, 2017 (Fort Worth, TX)
CareerBuilder Challenge (Formerly Bob Hope Classic) - January 18-22, 2017 in La Quinta, CA
International Circus Festival of Monte Carlo - January 19-29, 2017 (Monaco)
Sundance Film Festival - January 19-29, 2017 - An American Film festival held each year in Park City, Utah.
Chinese New Year Festival and Parade - January 21 - February 19, 2017 (San Francisco, CA)
Astrological Sign

The Astrological Sign for January 21 is an Aquarius.
Birth Flower of the Month

The Birth Flower(s) for the Month for January are:
Carnation - The Carnation is the Birth Flower for January. The  symbolization of the Carnation means love, pride, beauty, purity, distinction, fascination, and loyal.
Snowdrop is a white flower with three small petals in the middle surrounded by three larger petals on the outside. The symbolization of the snowdrop means love, fascination, and purity.
See our GARDEN HOLIDAYS page for all the special days celebrating things of the garden!
Birthstone
The Birthstone for January is Garnet, which comes in a rainbow of colors. It is considered a great gift to symbolize friendship and trust.
Famous Birthdays

1824 – Thomas "Stonewall" Jackson, American, Confederate Army General (d. 1863)
1905 - Christian Dior, fashion designer
1922 - Telly Savalas, American actor (d. 1994)
1924 – Benny Hill, English actor, comedian, and singer (Benny Hill Show) (d. 1992)
1940 - Jack Nicklaus, golfer
1941 - Placido Domingo, opera tenor (Madame Butterfly)
1942 - Mac Davis, American musician (Mac Davis Show)

1950 – Billy Ocean, West Indian musician
1956 – Geena Davis, American actress
1976 – Emma Bunton, English singer (Baby Spice of the Spice Girls)
Famous Deaths

1950 – George Orwell, British writer of Animal Farm (b. 1903)
1959 - Cecil B. DeMille, American director (10 Commandments) (b. 1881)
2002 - Peggy Lee, American singer (b. 1920)
Famous Weddings and Divorces

1966 - George Harrison marries Pattie Boyd in Surrey, England with Paul McCartney as best man.
Quote of the Day

Today, is National Hugging Day!
Recipe of the Day or a
Healthy Diet Habit Tip of the Day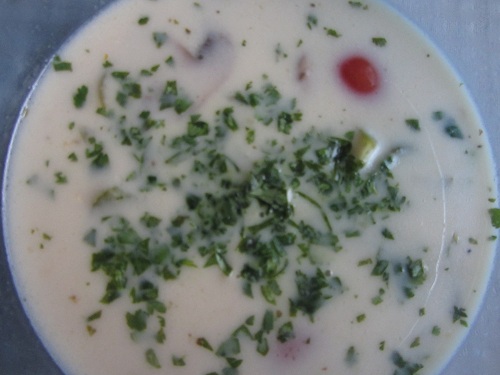 Holidays and Observances Recipe of the Day for January 21 is a Thai Tom Yum Soup by Kerry of Healthy Diet Habits. (link goes to her site for the Recipe)  January is National Soup Month - Tom Yum soup is a spicy Thai soup that can be made in under 30 minutes! It's made with fresh razor clams or shrimp and is outstanding!
This Day in History

1846 - 1st edition of Charles Dickens' "Daily News"
1903 - Harry Houdini escapes police station in Amsterdam
1903 - Wizard of Oz, premieres in New York City
1915 – Kiwanis International is founded in Detroit, Michigan.
1942 - Japanese air raid on Rabaul New Britain

1944

- 447 German bombers attack London
1949 - 1st inaugural parade televised (Harry Truman)
1954 – The first nuclear-powered submarine, the USS 

Nautilus

, is launched in Groton, Connecticut by Mamie Eisenhower, the First Lady of the United States.
1962 - Snow falls in San Francisco
1968 - Vietnam War: Battle of Khe Sanh - One of the most publicized and controversial battles of the war begins.
1977 - Italy legalizes abortion
1977 – President Jimmy Carter pardons nearly all American Vietnam War draft evaders, some of whom had emigrated to Canada.
2008 – Black Monday in worldwide stock markets. FTSE 100 had its biggest ever one-day points fall, European stocks closed with their worst result since 11 September 2001, and Asian stocks drop as much as 14%.
This Day in Music

1959 : The Kingston Trio's Tom Dooley is certified gold
1965 - The Byrds, record Mr. Tambourine Man
1978 - The soundtrack album to Saturday Night Fever hits #1 and stays on top for 24 weeks
1982 - B.B. King donated his entire record collection of over 20,000 discs to Mississippi University's Centre for the Study of Southern Culture.
1984 - Yes single, Owner Of A Lonely Heart hits #1 in the US and stays on top for 2 weeks

1987 - Rock and Roll Hall of Fame inductees include The Coasters, Eddie Cochran, Bo Diddley, Aretha Franklin, Marvin Gaye, Bill Haley, B.B. King, Clyde McPhatter, Rick Nelson, Roy Orbison, Carl Perkins, Smokey Robinson, Big Joe Turner, Muddy Waters, and Jackie Wilson
2001 - Limp Bizkit hits #1 on the UK singles chart with 'Rollin'
Owner of a Lonely Heart, by Yes is one of my favorite songs of theirs!
This Day in Sports

1911 – The first Monte Carlo Rally takes place.
1922 - 1st slalom ski race run, Murren, Switzerland
1967 - US female Figure Skating championship won by Peggy Fleming
1967 - US male Figure Skating championship won by Gary Visconti
1979 - Superbowl XIII: Pittsburgh Steelers beat Dallas Cowboys, 35-31 MVP: Terry Bradshaw, Pittsburgh's Quarterback
1984 - US male Figure Skating championship won by Scott Hamilton
Word of the Day from Wiktionary

palinspastic (adjective)
1. (geology, of a map) Showing the previous location of geological features, correcting for any intervening crustal movements.


Wishing You a Great Day Today!




Solo Build It, or Solo Build It, is the awesome E-Business software that we are using for this site!
---