January 22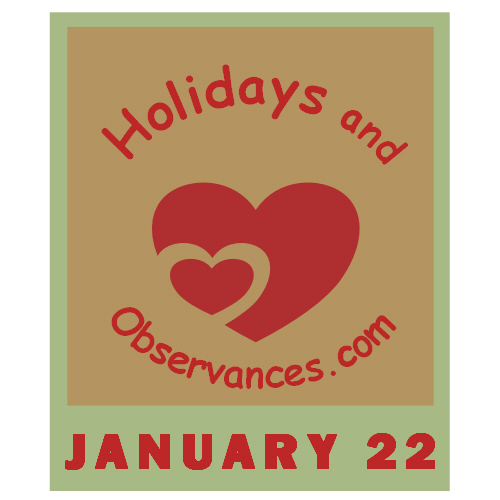 Holidays and Observances

2019 Daily Holidays that fall on January 22, include:
Celebration of Life Day 
National Answer Your Cat's Question Day 

National Blonde Brownie Day 
Roe vs. Wade Day 
2018 Weekly Holidays that include January 22, are:
Hunt for Happiness Week - January 21-27, 2018 (Third Full Week)
International Snowmobile Safety and Awareness Week - January 20-28, 2018
International Week of Prayer for Christian Unity - January 18-25
National Activity Professionals Week - January 21-27, 2018
National Certified Registered Nurse Anesthetists Week - January 21-27, 2018
National Clean Out Your Inbox Week - January 22-26, 2018 (Last Business Week in January)
National Drug & Alcohol Awareness Week - January 22-28, 2018
National Fresh Squeezed Juice Week - January 17-23
National Handwriting Analysis Week - January 21-27, 2018 (Week of John Hancock's birthday on January 23)
National Medical Group Practice Week - January 22-26, 2018 (M-F week that starts on Fourth Monday in January )
National School Choice Week - January 21-27, 2018
Week of Christian Unity - January 18-25
2018 Monthly Holidays that include January 22, are:
There are too many monthly holidays to include here, so please check out my January Holidays page to see all of the holidays that are celebrated the entire month of January.
NOTE:
A page on each holiday will be coming soon and linked above.
If a date is a movable holiday, that is different every year, I'll include the year as well as the date rule above. Otherwise, the holiday falls on the same date each year.
World Festivals and Events
Harbin Ice and Snow Sculpture Festival

 - Starts annually on 

January 5

, and typically runs for a month or more, in Harbin, China and is the largest ice and snow festival in the world! 

Southwestern Exposition and Livestock Show

 - January 12 - February 3, 2018 (Fort Worth, TX)

International Circus Festival of Monte Carlo

 - January 18-28, 2018 (Monaco)

Sundance Film Festival - January 18-28, 2018 - An American Film festival held each year in Park City, Utah.
Astrological Sign

The Astrological Sign for January 22 is an Aquarius.
Birth Flower of the Month

The Birth Flower(s) for the Month for January are:
Carnation - The Carnation is the Birth Flower for January. The  symbolization of the Carnation means love, pride, beauty, purity, distinction, fascination, and loyal.
Snowdrop is a white flower with three small petals in the middle surrounded by three larger petals on the outside. The symbolization of the snowdrop means love, fascination, and purity.
See our GARDEN HOLIDAYS page for all the special days celebrating things of the garden!
Birthstone
The Birthstone for January is Garnet, which comes in a rainbow of colors. It is considered a great gift to symbolize friendship and trust.
Famous Birthdays

1934 – Bill Bixby, American actor (Incredible Hulk, My Favorite Martian) (d. 1993)

1949 - Stephen Ray Perry (Steve Perry) Singer - Lead singer of Journey.
1959 – Linda Blair, American actress (The Exorcist)
1965 – Diane Lane, American actress
Famous Deaths

1901 – Queen Victoria of the United Kingdom (b. 1819)
1973 – Lyndon B. Johnson, 36th President of the United States during 1963-69 (b. 1908)
1994 – Telly Savalas, American actor (b. 1924)
1995 – Rose Fitzgerald Kennedy, matriarch of the Kennedy family (b. 1890)
2008 – Heath Ledger, Australian actor (b. 1979)
2010 – Jean Simmons, English-American actress (b. 1929)
Famous Weddings and Divorces

2006 - Lisa Marie Presley (37), weds American guitarist and producer Michael Lockwood (44) in Japan
Quote of the Day

Recipe of the Day or a
Healthy Diet Habit Tip of the Day

Fix yourself a Super Salad Meal!! It is a great healthy diet habit for a healthy lunch or healthy dinner, and is a must if you want to eat your daily vegetable quota, keep your weight down, and increase your fiber.
Check out this great Super Salad Meal Chart by Kerry of Healthy Diet Habits!
This Day in History

1889 – Columbia Phonograph is formed in Washington, D.C.
1946 – Creation of the Central Intelligence Group, forerunner of the Central Intelligence Agency.
1968 – Apollo 5 lifts off carrying the first Lunar module into space.
1970 – The Boeing 747, the world's first Jumbo Jet, enters commercial service for launch customer Pan American Airways with its maiden voyage from John F. Kennedy International Airport to London Heathrow Airport.
1973 – The Supreme Court of the United States delivers its decision in Roe v. Wade, legalizing elective abortion in all fifty states.
1984 – The Apple Macintosh, the first consumer computer to popularize the computer mouse and the graphical user interface, is introduced during Super Bowl XVIII with its famous "1984" television commercial.
1990 – Robert Tappan Morris, Jr. is convicted of releasing the 1988 Internet Computer worm.
1991 – Gulf War: Three SCUDs and one Patriot missile hit Ramat Gan in Israel, injuring 96 people.
This Day in Music

1967 - The Monkees performed live for the very first time at The Cow Palace in San Francisco to a sell-out crowd.

1972 - Don MacLean's album American Pie hits #1 and stays on top for seven weeks

1974 - Carly Simon's album Hotcakes is certified gold.
1977 - Stevie Wonder's, I Wish hits #1 and is his 5th US #1 song

1977 - Wings' album Wings Over America hits #1
1984 - Barry Manilow sings the national anthem at Superbowl XVIII in Tampa, FL
1994 - Bryan Adams, Rod Stewart and Sting, All for Love started a three week run at No.1 on the US singles chart 
2000 - Savage Garden went to No.1 on the US singles chart with I Knew I Loved You
Happy Birthday...Steve Perry, of Journey!
This Day in Sports

1857 - National Association of Baseball Players founded, NY
1984 - Superbowl XVIII: LA Raiders beat Washington Red Skins, 38-9 in Tampa Superbowl.  MVP is Marcus Allen, LA Raiders, Running Back
1989 - Superbowl XXIII: San Francisco 49ers beat Cincinnati Bengals, 20-16 in Miami Superbowl. MVP is Jerry Rice, San Francisco, Wide Receiver
1998 - World League of American Football becomes NFL East
Word of the Day from Wiktionary

enthesis (noun)

1.  (anatomy) The point at which a tendon, ligament, or muscle inserts into a bone.


Wishing You a Great Day Today!