January 26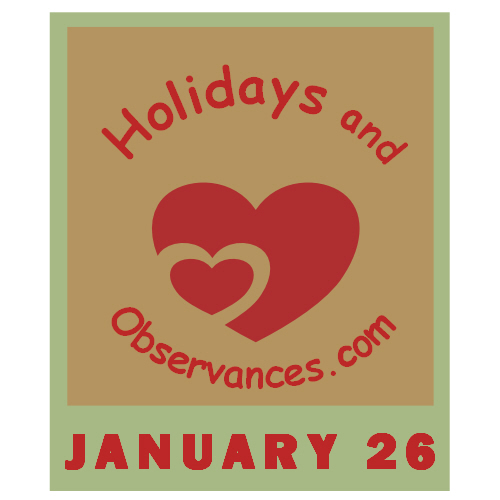 Holidays and Observances
(Alphabetical Order)
2021 Daily Holidays that fall on January 26, include:
Australia Day 
Dental Drill Appreciation Day 
International Customs Day 
Lotus 1-2-3 Day 
National Green Juice Day 
National Peanut Brittle Day 
National Pistachio Day 
National Plan for Vacation Day - January 26, 2021 (Last Tuesday in January)
Speak Up and Succeed Day - January 26, 2021
Spouse's Day 
Toad Hollow Day of Encouragement 
2021 Weekly Holidays that include January 26, are:
International Hoof Care Week - January 26-29, 2021
International Hot Air Balloon Week - January 24-30, 2021 (Fourth Full Week of January)
Kiss a Shark Week - January 24-30, 2021 (Fourth Full Week of January)
National Activity Professionals Week - January 24-30, 2021 (Third Full Week of January)
National Certified Registered Nurse Anesthetists Week - January 24-30, 2021
National Clean Out Your Inbox Week - January 25-29, 2021 (Last Business Week in January)
National Meat Week - January 24-31, 2021 (Begins on last Sunday of January)
National Medical Group Practice Week - January 25-29, 2021 (M-F week that starts on Fourth Monday in January)
National School Choice Week - January 24-30, 2021 (Last Week in January)
Tax Identity Theft Week - January 25-29, 2021
2021 Monthly Holidays that include January 26, are:
There are too many monthly holidays to include here, so please check out my January Holidays page to see all of the holidays that are celebrated the entire month of January.
NOTE:
A page on each holiday will be coming soon and linked above.
If a date is a movable holiday, that is different every year, I'll include the year as well as the date rule above. Otherwise, the holiday falls on the same date each year.
World Festivals and Events
(Date Order)
Harbin Ice and Snow Sculpture Festival - Starts annually on January 5, and typically runs for a month or more, in Harbin, China and is the largest ice and snow festival in the world! 2021 dates are January 5 - February 5, 2021
Sundance Film Festival - January 21-31, 2021 - An American Film festival held each year in Park City, Utah.
Astrological Sign

The Astrological Sign for January 26 is an Aquarius.
Birth Flower of the Month

The Birth Flower(s) for the Month for January are:
Carnation - The Carnation is the Birth Flower for January. The  symbolization of the Carnation means love, pride, beauty, purity, distinction, fascination, and loyal.
Snowdrop is a white flower with three small petals in the middle surrounded by three larger petals on the outside. The symbolization of the snowdrop means love, fascination, and purity.
See our GARDEN HOLIDAYS page for all the special days celebrating things of the garden!
Birthstone
The Birthstone for January is Garnet, which comes in a rainbow of colors. It is considered a great gift to symbolize friendship and trust.
Famous Birthdays

1880 – Douglas MacArthur, American general and Medal of Honor recipient (d. 1964)
1905 – Maria von Trapp, Austrian-born singer (d. 1987)
1925 – Paul Newman, American actor, philanthropist, race car driver and race team owner (d. 2008)
1941 – Scott Glenn, American actor
1955 – Eddie Van Halen, Dutch-American musician (Van Halen)
1958 – Ellen DeGeneres, American actress and comedian
1958 – Anita Baker, American singer
1961 – Wayne Gretzky, Canadian ice hockey player
Famous Deaths

1893 – Abner Doubleday, American military figure, and credited inventor of baseball (b. 1819)
1932 – William Wrigley Jr., American industrialist (b. 1861)
1979 – Nelson Rockefeller, American politician - 41st Vice President of the United States (b. 1908)
1983 – Paul "Bear" Bryant, American football coach (b. 1913)
2016 - Abe Vigoda, American actor (Barney Miller) (b. 1921)
2017 - Mike Connors, American actor (Mannix) (b. 1925)
2017 - Barbara Hale, American actress (Perry Mason) (b. 1922)
2020 - Kobe Bryant, American NBA basketball player, and his daughter Gianna Bryant


Famous Weddings and Divorces

1940 - Actor Ronald Reagan (28) weds Academy Award winning actress Jane Wyman (23) in Glendale, California. He later went on to marry. They divorced in 1949 and he went on to marry Nancy Davis in 1952 and become the 40th President of the United States between 1981–89.
Quote of the Day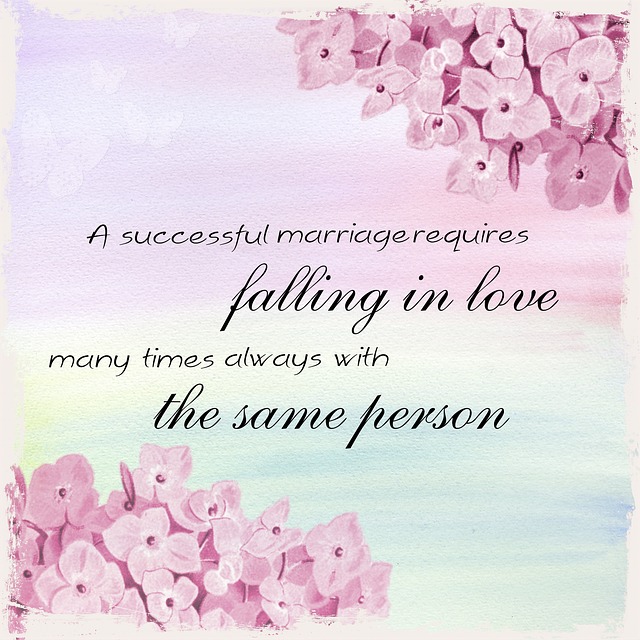 January 26 is Spouse's Day! A day to celebrate your spouse, show your appreciation, and spend time with them. Let your spouse know how much they are loved, appreciated, and respected.
Recipe of the Day or a
Healthy Diet Habit Tip of the Day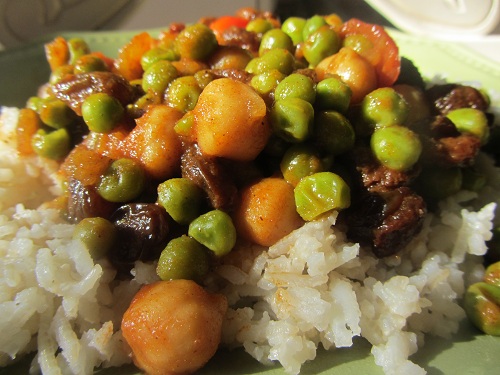 Holiday and Observances Recipe of the Day is a Easy Vegetarian Curry Recipe from Kerry, of Healthy Diet Habits.  She gives several different versions of the recipe, based on seasonal vegetables, and provides a bunch of different options for toppings.
See our FOOD HOLIDAYS page for all the special days celebrating food!
See our Holiday Food page for tips on healthy holiday food traditions in general, and for some sample meal plan ideas for some of the most popular holidays.
This Day in History

1788 – The British First Fleet, led by Arthur Phillip, sails into Port Jackson (Sydney Harbour) to establish Sydney, the first permanent European settlement on the continent. Commemorated as Australia Day
1837 – Michigan is admitted as the 26th U.S. State
1838 – U.S. State of Tennessee enacts the first prohibition law in the United States
1861 – During the American Civil War, the U.S. State of Louisiana secedes from the Union.
1870 – During the American Civil War, Virginia rejoins the Union.
1905 – The world's largest diamond ever, the Cullinan weighing 3,106.75 carats, is found at the Premier Mine near Pretoria in South Africa.
1911 – Glenn H. Curtiss flies the first successful American seaplane.
1915 – The Rocky Mountain National Park is established by an act of the U.S. Congress.
1939 - Filming begins on Gone With the Wind
1942 – During World War II, the first United States forces arrive in Europe landing in Northern Ireland
1948 - Executive Order 9981, ending segregation in US Armed Forces is signed
1954 - Ground breaking begins on Disneyland
1998 - Intel launches 333 MHz Pentium II chip
2005 - Condoleezza Rice is sworn in as U.S. Secretary of State, becoming the first African American woman to hold the post.
This Day in Music

1956 - Buddy Holly's 1st formal recording session
1961 - Elvis Presley's,  Are You Lonesome Tonight hits #1 on the UK singles chart

1974 - Ringo Starr's You're Sixteen hits #1
1997 - ZZ Top, James Brown, and the Blues Brothers, perform at the Super Bowl XXXI halftime show in New Orleans.
2003 - Justin Timberlake went to #1 on the UK album chart with his debut solo album, Justified, which stayed on the charts for over a year.
Anita Baker was born on this day in 1958. Sweet Love was one of my favorite songs of hers.
This Day in Sports

1956 - 7th Winter Olympic games open in Cortina d'Ampezzo, Italy
1963 - Major League Rules Committee votes to expand strike zone
1977 - Soviet figure skaters Sergei Shakrai & Marine Tcherkasova are 1st to perform a quadruple twist lift
1980 - Mary Decker became 1st woman to run a mile in under 4½ minutes
1986 - Superbowl XX: Chicago Bears beat NE Patriots, 46-10 in New Orleans Superbowl. The MVP is Richard Dent, Chicago, DE
1992 - Superbowl XXVI: Wash Red Skins beat Buffalo Bills, 37-24 in Minn Superbowl MVP: Mark Rypien, Washington, QB
1997 - Superbowl XXXI: Green Bay Packers beat NE Patriots, 35-21 in New Orleans
Word of the Day from Wiktionary

heterogeneous (adjective)
1. Diverse in kind or nature; composed of diverse parts.


Wishing You a Great Day Today!


Like this Page?
Like this Site?
---