January 28

 Holidays and Observances

2019 Daily Holidays that fall on January 28, include:
Better Business Communication Day - January 28, 2019 (Fourth Monday in January)
Bubble Wrap Appreciation Day -January 28, 2019 (4th Monday in January)
Christa McAuliffe Day 
Daisy Day 
National Blueberry Pancake Day 
National Data Privacy Day 
National Kazoo Day 
Rattlesnake Round Up 
Thank a Plugin Developer Day (WordPress) 
2019 Weekly Holidays that include January 28, are:
Catholic Schools Week - January 27, 2019 - February 2, 2019 (Begins on the last Sunday in January)
National Cowboy Poetry Gathering Week - January 28 - February 2, 2019
National Meat Week - January 27 - February 2, 2019 (Begins on last Sunday of January)
National Medical Group Practice Week - January 28 - Feb 1, 2019 (M-F week that starts on Fourth Monday in January )
Tax Identity Theft Week - January 28 - February 1, 2019
2019 Monthly Holidays that include January 28, are:
There are too many monthly holidays to include here, so please check out my January Holidays page to see all of the holidays that are celebrated the entire month of January.
NOTE:
A page on each holiday will be coming soon and linked above.
If a date is a movable holiday, that is different every year, I'll include the year as well as the date rule above. Otherwise, the holiday falls on the same date each year.
World Festivals and Events
Harbin Ice and Snow Sculpture Festival - Starts annually on January 5, and typically runs for a month or more, in Harbin, China and is the largest ice and snow festival in the world! 
Southwestern Exposition and Livestock Show - January 18 - February 9, 2019 (Fort Worth, TX)
Sundance Film Festival - January 24 - February 3, 2019 - An American Film festival held each year in Park City, Utah.
Saint Paul Winter Carnival - January 24 - February 3, 2019 (St. Paul, MN)
Astrological Sign

The Astrological Sign for January 28 is an Aquarius.
Birth Flower of the Month

The Birth Flower(s) for the Month for January are:
Carnation - The Carnation is the Birth Flower for January. The  symbolization of the Carnation means love, pride, beauty, purity, distinction, fascination, and loyal.
Snowdrop is a white flower with three small petals in the middle surrounded by three larger petals on the outside. The symbolization of the snowdrop means love, fascination, and purity.
See our GARDEN HOLIDAYS page for all the special days celebrating things of the garden!
Birthstone
The Birthstone for January is Garnet, which comes in a rainbow of colors. It is considered a great gift to symbolize friendship and trust.
Famous Birthdays

1968 – Sarah McLachlan, Canadian singer and songwriter
1977 – Joey Fatone, American singer (*NSYNC)
1980 – Nick Carter, American singer (Backstreet Boys)
1981 – Elijah Wood, American actor
Famous Deaths

1986 – Christa McAuliffe – American teacher, member of the crew of Space Shuttle Challenger (b. 1948)
1986 – Ronald McNair – crew of Space Shuttle Challenger (b. 1950)
1986 – Ellison Onizuka – crew of Space Shuttle Challenger (b. 1946)
1986 – Judith Resnik – crew of Space Shuttle Challenger (b. 1949)
1986 – Francis Richard "Dick" Scobee – commander of Space Shuttle Challenger (b. 1939)
1986 – Michael J. Smith – crew of Space Shuttle Challenger (b. 1945)
Famous Weddings and Divorces

1994

- Actress Lorraine Bracco (39) weds actor Edward James Olmos (46)
Quote of the Day

The quote above is from Mr. Darcy, one of the characters in Jane Austen's Pride and Prejudice novel first published in 1813. It has become one of the most popular novels in English literature, and has sold over 20 million copies! It has also had several different movie's made from the story over the years.
Recipe of the Day or a
Healthy Diet Habit Tip of the Day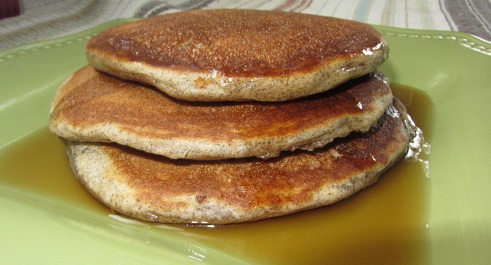 Today is National Blueberry Pancake Day. The recipe of the day is a Buckwheat Pancakes Recipe from Kerry at Healthy Diet Habits - if you are making them today, just add 1 cup of Blueberries!
See our FOOD HOLIDAYS page for all the special days celebrating food!
See our Holiday Food page for tips on healthy holiday food traditions in general, and for some sample meal plan ideas for some of the most popular holidays.
This Day in History

1624 – Sir Thomas Warner founds the first British colony in the Caribbean, on the island of Saint Kitts.
1813 – Pride and Prejudice, is first published in the United Kingdom.
1851 – Northwestern University becomes the first chartered university in the State of Illinois.
1855 – A locomotive, on the Panama Railway, runs from the Atlantic Ocean to the Pacific Ocean for the first time.
1887 – In a snowstorm at Fort Keogh, Montana, the world's largest snowflakes are reported as 15 inches wide and 8 inches thick.
1902 – The Carnegie Institution of Washington is founded in Washington, D.C. with a $10 million gift from Andrew Carnegie.
1915 – An act of the U.S. Congress creates the United States Coast Guard.
1917 – Municipally owned streetcars take to the streets of San Francisco, California.
1934 – The first ski tow in the United States begins operation in Vermont.
1935 – Iceland becomes the first Western country to legalize therapeutic abortion.
1958 – The Lego company patents the design of its Lego bricks, still compatible with bricks produced today.
1964 – An unarmed USAF T-39 Sabreliner on a training mission is shot down over Erfurt, East Germany, by a Soviet MiG-19.
1984 - Record 295,000 dominoes toppled in Fuerth, West Germany
1986 – Space Shuttle program: STS-51-L mission – Space Shuttle Challenger breaks apart after liftoff killing all seven astronauts on board.
1998 - Michelangelo, "Christ & the Woman of Samaria," sold for $7.4 million
This Day in Music

1956 – Elvis Presley made his first US TV appearance
1965 - The Who make their 1st appearance on British TV
1967 - Rolling Stones release "Let's Spend the Night Together"
1985 : With the stars in town for the American Music Awards, We Are The World is recorded in Los Angeles, with cameras rolling for the video. Among those taking part: Ray Charles, Bob Dylan, Hall & Oates, The Jacksons, Billy Joel, Kenny Loggins, Bette Midler, Willie Nelson, The Pointer Sisters, Lionel Richie, Smokey Robinson, Kenny Rogers, Diana Ross, Paul Simon, Bruce Springsteen, Tina Turner and Stevie Wonder.
1990 - Paul Abdul started a 10-week run at #1 on the US album chart with 'Forever Your Girl'.
1991 - At the American Music Awards, Gloria Estefan performs her new single "Coming Out of the Dark", live for the first time since a tour bus accident 10 months earlier where she seriously injured her back. The song was inspired by her recovery.
1996 - Chris Isaak guest-stars in Friends episode, "The One After the Superbowl." He plays Phoebe's date, Rob Donnen.
This was a cute video of Paula Abdul's song Opposites Attract on her debut album, Forever Your Girl.  The album  included four number one Hot 100 singles - "Straight Up", "Forever Your Girl", "Cold Hearted", and "Opposites Attract."
I remember watching the American Music Awards in 1991, when Gloria Estefan came out and sang for the first time since her tragic bus accident. She was always one of my favorites!
This Day in Sports

1949 - NY Giants sign their 1st black players, Monte Irvin & Ford Smith
1958 - Dodger catcher Roy Campanella is paralyzed in an automobile wreck
1969 - Barbara Jo Rubin becomes 1st woman jockey to win in North America
1984 - LA Kings stop Wayne Gretzky 51 game scoring streak
1990 - Superbowl XXIV: SF 49ers beat Denver Broncos, 55-10 in New Orleans Superbowl. The MVP is Joe Montana, San Francisco, QB
1996 - Diana Ross performs at the Superbowl XXX halftime show in Tempe, AZ
1996 - Superbowl XXX: Dallas Cowboys beat Pittsburgh Steelers, 27-17 in Tempe Superbowl
2001 - Ray Charles sings America The Beautiful at Superbowl XXXV in Tampa. The Backstreet Boys sing the National Anthem
Word of the Day from Wiktionary

stoically (adverb)
1.  In a manner that endures pain and hardship without outwardly showing suffering or expressing complaint.
2.  In an unfeeling manner that inwardly is unaffected by pain or distress.


Wishing You a Great Day Today!