March 7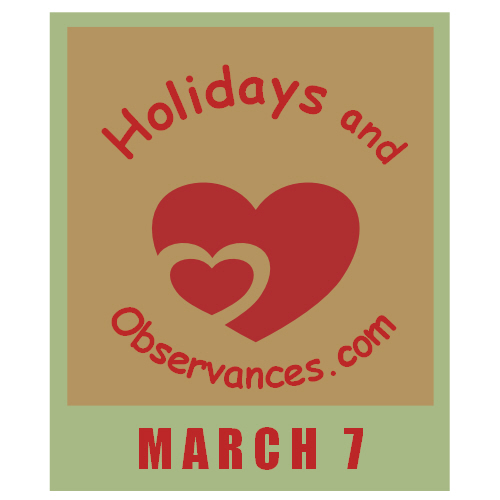 Holidays and Observances

2016 Daily Holidays that fall on March 7, include:
Alexander Graham Bell Day 

Casimir Pulaski Day - March 7, 2016 (First Monday in March)
Eight Hour Day or Labor Day - March 7, 2016 (Observed in Australia the first Monday in March. "Eight hours labor, eight hours recreation, eight hours rest!"
Fun Facts About Names Day -March 7, 2016 (Monday of First Full Week in March which is Celebrate Your Name Week)
National Be Heard Day 
National Cereal Day 
National Crown Roast of Pork Day 
2016 Weekly Holidays that include March 7, are:
2016 Monthly Holidays that include March 7, are:
There are too many monthly holidays to include here, so please check out our March Holidays page to see all of the holidays that are celebrated the entire month of March.
NOTE:
A page on each holiday will be coming soon and linked above.
If a date is a movable holiday, that is different every year, I'll include the year as well as the date rule above. Otherwise, the holiday falls on the same date each year.
World Festivals and Events
Hong Kong Arts Festival

 - February 19, 2016 - March 20, 2016 features Art, Theatre, Dance, Opera, and Music events.

Houston Livestock Show and Rodeo - March 1-20, 2016 (Houston, TX)
Iditarod Race

 - Starts March 5, 2016 - Awards Banquet on March 20, 2016 - A Dogsled Race on the Iditarod Trail in Alaska running 1,000 miles from Anchorage to Nome.
Astrological Sign

The Astrological Sign for March 7 is Pisces.

Birth Flower of the Month

The Birth Flower(s) for the Month for March are:
Birthstone
The Birthstone(s) for March is the aquamarine and the bloodstone.
Famous Birthdays

1671 – Robert Roy MacGregor, Scottish folk hero (d. 1734)
1707 - Stephen Hopkins, Governor of Rhode Island, and signer of the Declaration of Independence
1970 – Rachel Weisz, British actress (The Constant Gardener, The Mummy)
1971 – Peter Sarsgaard, American actor
1974 – Jenna Fischer, American actress (The Office)
Famous Deaths

322 BC - Aristotle, Greek philosopher (b. 384 BC)
1999 – Stanley Kubrick, American film director (b. 1928)
Quote of the Day

Recipe of the Day or a
Healthy Diet Habit Tip of the Day

The Holidays and Observances Healthy Diet Habit Tip for March 7, is some information about Healthy Breakfast Cereals from Kerry at Healthy Diet Habits.  March 7 is National Cereal Day. There are so many choices out there, that it helps to know some of the healthier Cereals to choose.
This Day in History

1778 - Captain James Cook 1st sights Oregon coast, at Yaquina Bay
1801 - Massachusetts enacts 1st state voter registration law
1854 - Charles Miller patents 1st US sewing machine to stitch buttonholes
1876 – Alexander Graham Bell is granted a patent for the telephone
1918 - President Wilson authorizes the US Army's Distinguished Service Medal
1926 - 1st transatlantic telephone call from London to New York

1986 – The crew cabin of the Challenger is located on the ocean floor, by the Divers from the USS Preserver
1991 - Iraq continues to explode oil fields in Kuwait
1994 - US Navy issues 1st permanent order assigning women on combat ship
1996 - 1st surface photos of Pluto (photographed by Hubble Space Telescope)
This Day in Music

1967 - The Supremes' Love Is Here And Now You're Gone hits #1

1969 - Tommy Roe's Dizzy is certified gold
1973 - Eric Weissberg and Steve Mandel's Dueling Banjos is certified gold
1977 - Eagles' Hotel California hits #1
1981 -Eddie Rabbit's I Love A Rainy Night hits #1

1983 - The Songwriter's Hall of Fame inducts Neil Sedaka and Stevie Wonder
1985 – The song We Are the World receives its international release.
1987 - The Beastie Boys album, Licensed to Ill, becomes the first rap album to top the US chart. It stays at #1 for 7 weeks.
Above is the Hotel California from the Eagles. This song went #1 on this day in 1977. This was live in 1988 when they were inducted into the Rock & Roll Hall of Fame.
This Day in Sports

1857 - Baseball decides 9 innings constitutes an official game
1950 - Men Figure Skating Championship in London won by Richard Button from the USA
1986 - Wayne Gretzky breaks own NHL season record with 136th assist
1987 - Mike Tyson beats Bonecrusher Smith in 12 for heavyweight boxing title
1996 - Magic Johnson is the 2nd NBA player to reach 10,000 career assists
Word of the Day from Wiktionary

phillumenist (noun)

1. A person who collects match-related items, like matchbox labels, matchboxes, matchbooks, or matchbook covers


Wishing You a Great Day Today!